Despite a few delightfully warm days, we have to admit that it's still winter. My antidote to the winter blues? Exercise! And massage therapy. :) Glance at my daily stretching routine below, and don't forget to check the current monthly special - February is a sweet gift certificate deal, and March will be discounted 30 minute sessions. Take a little time for yourself or a loved one at a fantastic discount!
My Pre and Post-Exercise Stretches
Many clients ask what my pre- and post-workout stretching routines are. They vary a little depending on the workout I'm doing, but these six movements are ones I do almost without fail every day.
| | |
| --- | --- |
| | Calf Stretch: Standing with your heel hanging off a stair (or a short fixed object) keep your knee slightly bent and allow your heel to drop as far as possible. This should stretch not only the calf muscles, but the back of the knee. You can do both feet at one time, or focus more on one side if it's tighter than the other. |
| | Low Back/Hamstring Stretch: Place your foot up on a surface about the height of your hip (for me, this is the fourth stair from the bottom of a flight). Move your abdomen down toward that leg to stretch the hamstring. Come back up, and hold your opposite arm up straight, as if trying to touch the ceiling. Slowly lower that arm and try to reach past the toes of the raised leg (left hand to right foot and vice versa to switch.) Your hand should be able to at least touch your toes here, if not reach a little past them. This should stretch not only the hamstrings, but also the lower back of the standing leg. |
| | Glute Stair Stretch: Lower your leg onto a stair (or another surface the height of your hip) so that your entire lower leg and knee are touching that surface, perpendicular to your body. Your knee shouldn't be up at all, and your entire leg should be level. Lean forward toward your leg. You can also turn your torso to one side or the other. This should provide a lovely stretch in the glutes and posterior hip. |
| | Quad Stretch, Perfected: Everyone is familiar with holding on to your ankle and drawing your heel up to your butt to stretch the quads. But this movement isn't as effective as it could be. To engage all four quad muscles, hold your heel as close to your butt as possible, and lean forward, so your pelvis is straight (hold on to something so you don't topple forward.) You can then let your leg pull your shoulder down a little as you come back up to standing, to really stretch each quad muscle individually. |
| | Pec Wall Stretch: Standing perpendicular to a wall (or another tall object), reach your arm back behind you, palm on the wall, and pivot forward, letting your arm go as far back as is comfortable. This is a stretch that's worth doing a few times every day, actually, and I'm often caught in the hallway outside my office doing it between client sessions. |
| | Rotator Cuff Stretch: Hold one arm out, at the level of your collarbone. Hook your other arm around it, above your elbow, and use that other arm to pull the first arm toward your body. This should stretch the entire back of the shoulderblade. |
Healthy Recipe: Warm Sweet Potato Salad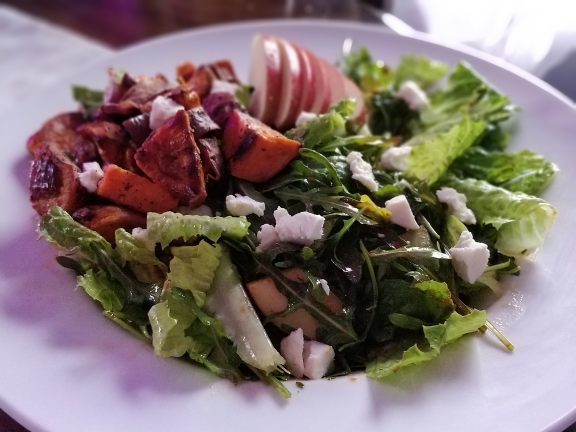 When I'm feeling the after effects of overindulgence, I turn to dinner salads. This salad is filling, satisfying and healthy, and the leftovers can easily be rolled in to a wrap for lunch tomorrow. You could certainly sub the sweet potatoes for any root veggie hanging around in your bin.
Serves 2 for Dinner
Ingredients

1 large sweet potato, cubed
1 small red onion, diced
Olive oil, divided
1 teaspoon sumac
Salt & pepper, to taste
5 Sun dried tomatoes
1 Tablespoon honey
5 sprigs parsley
Juice of half lemon (about 1 Tablespoon)
Mixed salad greens
1 large apple, diced or sliced
1-2 oz Goat cheese
Directions:
To roast the veggies: Heat the oven to 450F. Line a sheet pan with aluminum foil, and sprinkle a bit of olive oil over it. Toss in sweet potato and red onion and a little more olive oil. Toss with salt, pepper and sumac. Spread in an even layer and roast for about 30-40 minutes, or until tender and crisp.
In the meantime, make the vinaigrette: In a small blender or food processor, combine the sun dried tomatoes, parsley (with stems), lemon juice, honey, about 4 tablespoons olive oil and salt and pepper to taste. Blend until completely smooth and adjust seasoning if necessary. (This will make more vinaigrette than needed for this salad, but it should last in the fridge for about a week.)
To put together the salad: Toss the greens and apple with a few teaspoons of the vinaigrette. Add in the warm veggies and top with goat cheese, if desired. Enjoy right away.
Too busy for a session during the week? Follow me on Twitter and I'll tweet which Saturdays I'm accepting office appointments. Can't deal with social media? My twitter feed is live on the bottom of the front page of my website; you can always see my latest updates there!


February Monthly Special - A 60 Minute Gift Certificate for only $85 (Save $15!)

Click "Purchase a Gift Certificate" to buy a 60 minute gift certificate for only $85 (Save $15!) It's a gift everyone will love! (Limit 2 per customer, please.)

March Monthly Special - A 30 Minute Session for only $40 (Save $10!)

Our lives are so busy, we sometimes forget to take time our for ourselves. But a spare 30 minutes during the week - we can carve that out! What better way to spend your lunch hour then getting a massage at this fantastic discount!

I'm so grateful for all of my wonderful clients - You're the reason I've stayed in business this long, and it's for you that I hope to keep practicing for a long time! If you have about 60 seconds to spare, would you please consider leaving my business a review? Thank you so much for your kind words!
Steps to create a Google or Yelp Review:
1. Open Google Maps or Yelp and make sure you're signed in.
2. Search for "Diana Remaley Massage Therapy Westport CT" and view my business listing.
3. Click "Write a review."
4. In the window that appears, click the stars to score my business!