We still have a few glorious weeks of summer left! I don't know about you, but I'm savoring every last bit. In this issue, enjoy a super simple grilling recipe and a stretching series perfect for opening up your back after a long trip, or even as maintaining simple flexibility.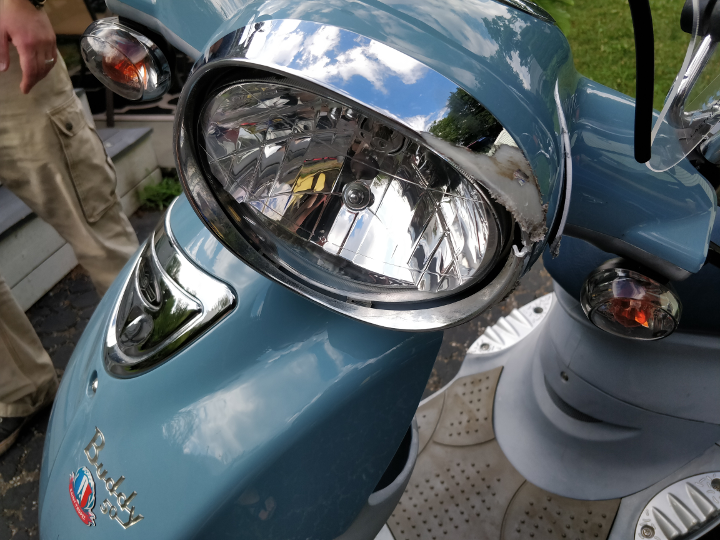 As many of you know, I was involved in a little car versus scooter accident earlier this summer, and I walked away with some injuries to my hand. Most importantly, I want to thank you, my fabulous clients, for understanding rescheduled appointments and changes in treatment strategies as my hand healed. This was my first significant injury, so I learned some valuable lessons about healing, treatment, mobility, muscle degradation and pain. I hope, at the very least, this whole experience gives me more empathy for my clients as you go through various muscular concerns yourselves.
The main things I learned, in no particular order:
Always follow your doctor's advice, even if it seems like the doctor is being overly cautious.
Pay attention to your body. You'll have good days and bad days; respect the bad days and go easier on yourself.
Strength training is critical for muscle health. Since I couldn't hold a weight or band for 6 weeks, I couldn't do any exercise other than cardio. Despite increasing my running mileage and HIIT, my muscles are still noticeably softer and weaker. And I feel like my arms and thighs have gained circumference! I know I'll get back to where I was before the accident, but it's clear that weighted exercise matters for muscle tone and health.
Healing takes time! Be patient with your body. All you can do is facilitate it as it heals. Massage therapy can be great for this!
I hope to never have this experience again, but at least I can say I learned something.
Spinal Stretching Series
If any part of the spine is stiff, it feels like the whole body can't move correctly. These are my favorite stretches to open up the spine, move more freely and reduce pain! Any time you're feeling a little tight, like you can't stand or sit straight, give this series a try. You'll feel like you can move more freely and even breathe more easily.
| | |
| --- | --- |
| | Ear to Shoulder: To open up the neck (ie, cervical spine), drop your shoulders. Gently grab hold of your head with your right hand and pull the right ear to the right shoulder. Let your neck release and breathe into the movement. Repeat on the other side. If you notice quite a bit of tension, turn your head to the side slightly and repeat, gently. This will stretch the muscles on the side and front of your neck as well. |
| | Upper Trap Release: Stand facing a wall, palms pressed against it at the level of your shoulders. Take a few steps backward so your arms are outstretched but your palms are still touching the wall. Lower your head between your arms, letting it drop completely. Hold this for at least 60 seconds, or even longer, until you feel the muscles consciously start to let your head drop lower and lower. This one takes some patience and practice, but it's extremely worthwhile. |
| | Side Bend: Stand very straight, with your legs a little wider than your hips, abs pulled in. Raise both arms over your head and interlace your fingers. Gently bend to each side, breathing deeply and taking your time. Repeat three times. |
| | Whole Spinal Stretch: In the same stance, abs still pulled in, raise both arms over your head again. Hinge from the hips, keeping your spine straight, and reach down toward your toes, touching them if possible. Return to upright and gently arch your upper back toward your rear. You'll only get a few inches of movement here, but the intention of the movement should open up your back and chest. You can also release your fingers if that makes the movement easier for you. Repeat this series at least three times and move slowly, going from touching your toes to reaching up over your head and toward your back. |
Healthy Recipe: Shrimp, Tomato and Squash Skewers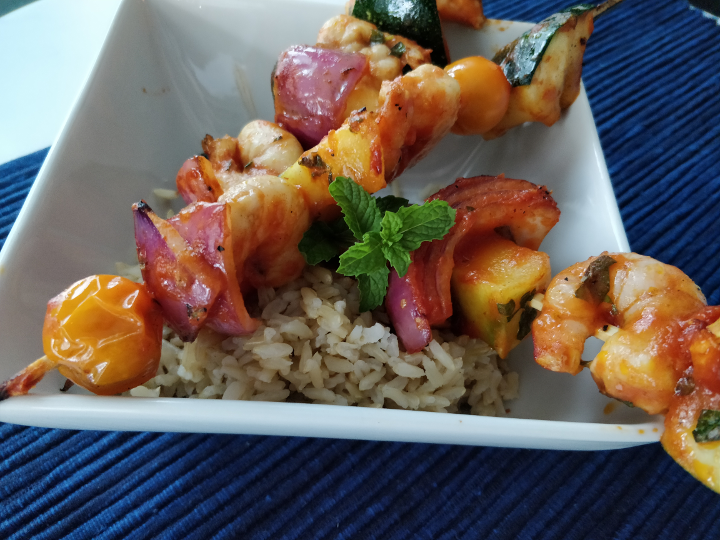 These little grilled treats are a fantastically easy dinner. They're also fancy enough to serve as an appetizer for your next outdoor party. To make them a complete meal, serve with a little brown rice, quinoa, or just salad greens. You'll devour them!
Serves 4 for Dinner, makes about 20 appetizer skewers
Ingredients

1/4 cup tomato paste
1/4 cup olive oil
1/4 cup water
3-5 cloves garlic, minced
3 Tablespoons fresh mint, chopped
1 pound shrimp (I used 21-30 size), peeled and deveined
1-2 squash, diced about 2" cubes
20-30 cherry tomatoes
Salt and pepper, to taste
Equipment: BBQ skewers (metal or wood)
Directions:
Make the marinade/sauce: Combine the tomato paste, olive oil, water, garlic and mint in a small bowl. It should be the consistency of pancake batter. If it's too thick, add a little bit more water.
Skewer the shrimp, squash and tomatoes, alternating as you like.
Place the skewers on a lined sheet tray and generously pour the marinade over. If you're grilling them right away, salt and pepper now. You can also leave them on the tray to marinade for a few hours, and salt just before cooking.
Heat your grill to high. Grill the skewers over the highest heat possible for about 2 minutes per side, or until the squash are a little charred and the shrimp are cooked through. Enjoy!
Too busy for a session during the week? Follow me on Twitter and I'll tweet which Saturdays I'm accepting office appointments. Can't deal with social media? My twitter feed is live on the bottom of the front page of my website; you can always see my latest updates there!


September Monthly Special - Double Referral Rewards!

Normally, when you refer a new client to me and they book a session, they get $10 off their initial session and you get $10 off your next session as well. In September, any time you refer a client and they book a session, they'll still receive $10 off, but you'll receive a $20 discount! Everyone wins!

I'm so grateful for all of my wonderful clients - You're the reason I've stayed in business this long, and it's for you that I hope to keep practicing for a long time! If you have about 60 seconds to spare, would you please consider leaving my business a review? Thank you so much for your kind words!
Steps to create a Google or Yelp Review:
1. Open Google Maps or Yelp and make sure you're signed in.
2. Search for "Diana Remaley Massage Therapy Westport CT" and view my business listing.
3. Click "Write a review."
4. In the window that appears, click the stars to score my business!