This has been such an exciting time! I'm loving my new office, and have been so happy to see so many clients in this fantastic space. In this issue, enjoy some hand and finger attention and a healthy chocolate recipe. Also, be sure to schedule an appointment during the month of November - Client Appreciation Month! At my office you'll receive a special gift and be automatically entered to win a lovely prize. I'm so grateful for all my fantastic clients; this is my way of saying thank you for making my practice worthwhile!
| | |
| --- | --- |
| I'm loving my new office! | Client Appreciation Month Swag |
Hand Massaging
So many clients appreciate massage on their hands and fingers. When we think about it, our hands and fingers rarely get a break - We're constantly using our thumbs on our phones, or typing on tiny keyboards. Add to that the fact that thumbs and fingers are inherently difficult to stretch, and it's easy to see why hand and finger pain is so common. Rather than focusing on stretching the digits, below are a few pressure points where muscles meet and pain commonly occurs. Simply apply pressure with an object (a tennis ball, the end of a hairbrush, really anything small and rounded) to these points, and your hands and fingers should start to thank you.
| | |
| --- | --- |
| | 1. The webbing of the thumb: The technical name for this area is "thenar eminence," which refers to the fact that the thumb muscles tend to pooch out a bit. As you can see from the muscle image, there are a number of muscles that overlay each other here. Apply rather firm pressure, and attempt to separate out the different muscles by gently rotating your massaging tool and noticing the direction of the individual fibers. |
| | 2. The Center of the palm: The anatomical name for this area is the "palmar aponeurosis," which refers to the way the thumb muscles and little finger muscles form almost a "valley" here. You don't need to use very much pressure at all in this area, just gently roll your massage tool over it, in circles if possible, and try to let your entire hand collapse around it. This center of the palm feels especially tender when pressure is applied, and may even radiate a little feeling into the thumb itself. Go easy, and focus on relaxing your fingers and all the bones in your hand. |
| | 3. Between each finger: I've heard from younger people who are worried about arthritis in their fingers, when really, these muscles between the fingers are overused and achy. Using a very slim tool, like the end of a hairbrush, or even a rounded pen, gently apply pressure directly between your finger bones. You can even wiggle your fingers back and forth a little to notice how that movement affects the pressure you're applying. You can exert more force here than in the center of the palm, but again, focus on relaxing your fingers and letting them curl around your pressure. Never try to "muscle back" or hold tension in your muscles while trying to massage them. |
Healthy Recipe: Chocolate Breakfast Bars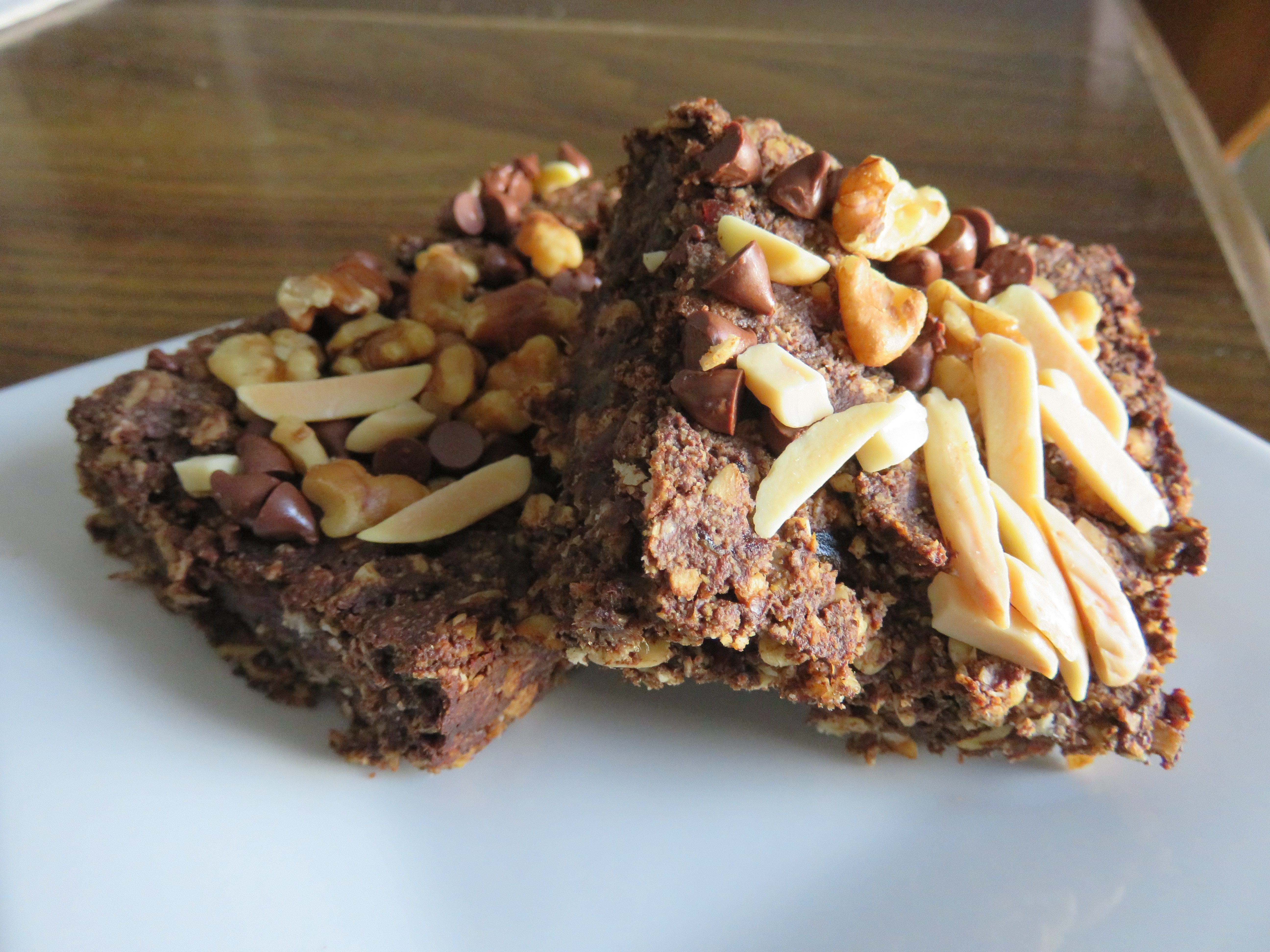 I think "Healthy Chocolate" should be on my business card. I'm always looking for ways to indulge without guilt, and these bars fit the bill. They're full of healthy oats and bananas, with just a little chocolate naughtiness. I often eat them for breakfast, or just as a sweet afternoon treat. They're gluten-free, sugar-free and vegan. They freeze incredibly well, so don't worry about eating the entire batch on the first day (although you might want to!)
Makes about 10
Ingredients

3/4 cups pitted dates
2 bananas (preferably brown and overripe)
1/3 cup cocoa powder
1 Tablespoon vanilla extract
Pinch of salt
1/3 cup coconut oil (or oil of choice)
1 1/2 cups rolled oats (not quick-cook)
3/4 cup almond flour
4 Tablespoons flax meal
1/3 cup cocoa powder
Walnuts, almonds, or other nut of choice, for topping
Mini chocolate chips, for topping, if desired
Directions:
Preheat oven to 350 degrees F. Grease and/or line an 8x8" baking dish with parchment.
In a food processor, blend the dates, bananas, cocoa powder, salt, vanilla and coconut oil until smooth.
Add the oats, ground almonds, and flax meal and pulse to combine, leaving some of the oats rather large, if you like.
Use a spatula to combine the ingredients thoroughly, and transfer to prepared baking dish. Top with almonds, walnuts and mini chocolate chips, if using.
Bake for about 20 minutes, or until firm in the center and pulling away from the edges slightly. These benefit from cooling and will slice more easily when cool or even chilled. Enjoy right away or freeze for a quick snack to grab and go!
Too busy for a session during the week? Follow me on Twitter and I'll tweet which Saturdays I'm accepting office appointments. Can't deal with social media? My twitter feed is live on the bottom of the front page of my website; you can always see my latest updates there!


November Monthly Special - Double Referral Rewards

Double Referral Rewards Usually, when you refer a friend and they book a session, you both get $10. But any time in November, when you refer a friend and they book a session, they'll still get $10 off, but you'll get $20 off your session! Give your friends and family the gift of great massage therapy - everyone wins!

I'm so grateful for all of my wonderful clients - You're the reason I've stayed in business this long, and it's for you that I hope to keep practicing for a long time! If you have about 60 seconds to spare, would you please consider leaving my business a review? Thank you so much for your kind words!
Steps to create a Google or Yelp Review:
1. Open Google Maps or Yelp and make sure you're signed in.
2. Search for "Diana Remaley Massage Therapy Westport CT" and view my business listing.
3. Click "Write a review."
4. In the window that appears, click the stars to score my business!