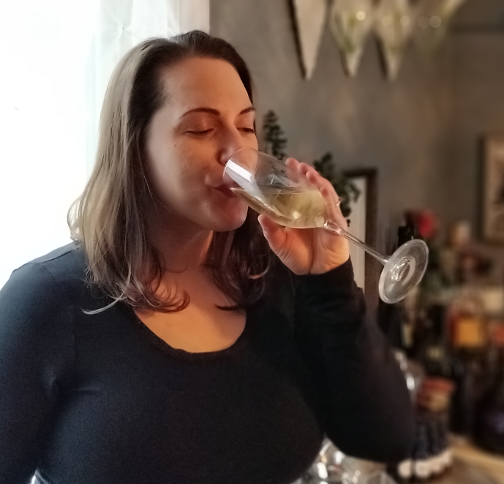 We've made it to 2021! It may be a little premature, but I'm celebrating. I think there's reason to be optimistic - vaccines are rolling out, the days are getting slightly longer, and as of December 2020, I've been practicing massage therapy for 10 years! I honestly never thought I'd make it this far. I think when I started practicing at 27, I couldn't even imagine living this long! You, my amazing clients, are the only reason I've been able to keep working, and I'm so grateful! I can't wait to throw a huge party to celebrate - it might be an 11th anniversary party in 2022, but I'm okay with that. So let's keep on keeping on, find joy where we can, and keep reminding ourselves that the way we're living right now is temporary. We will reach a point when we can freely embrace our friends, laugh with them over glasses of wine on a Friday night, and hug a stranger. Until then, we can keep ourselves healthy and feeling well with massage therapy, some lovely stretches and comforting recipes.
I'm so grateful for all of my wonderful clients - You're the reason I've stayed in business this long, and it's for you that I hope to keep practicing for a long time! If you have about 30 seconds to spare, would you please consider leaving my business a review? Thank you so much for your kind words!
Review My Business on Google
Sitting Stretches
With many of my clients working from home recently, it seems that ergonomics have been suffering. Or more aptly, that many of you are suffering pain from poor ergonomics. It's best to get up from your desk frequently during the day, but here are some stretches you can do without getting up. This sequence is ideal, and should take only about 5 minutes, but if you find one stretch particularly helpful, do that one more often. Remember, any kind of movement is better than none.
Touch the Sky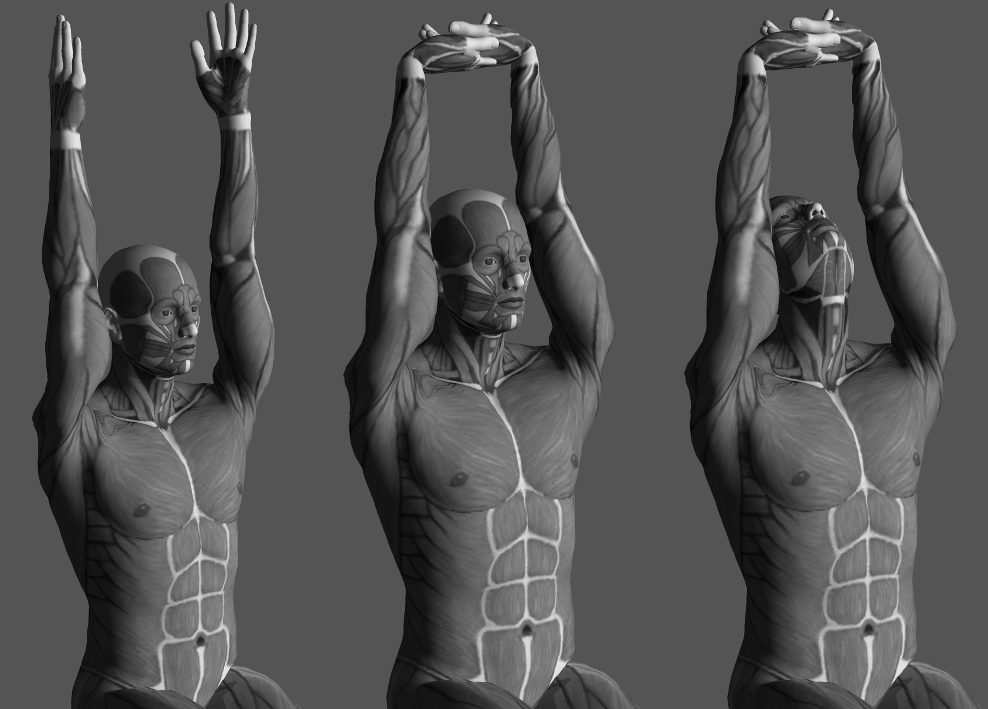 Starting with the simplest movement: Take a deep breath, pull your belly button in to your spine to activate your abs, and raise your arms up over your head. Really stretch up and try to touch the sky. Clasp your hands together, turn your palms up, and give your hands and forearms a little stretch too. We usually naturally look up while we do this, and that's a nice stretch for the front of the neck as well.
Side Stretch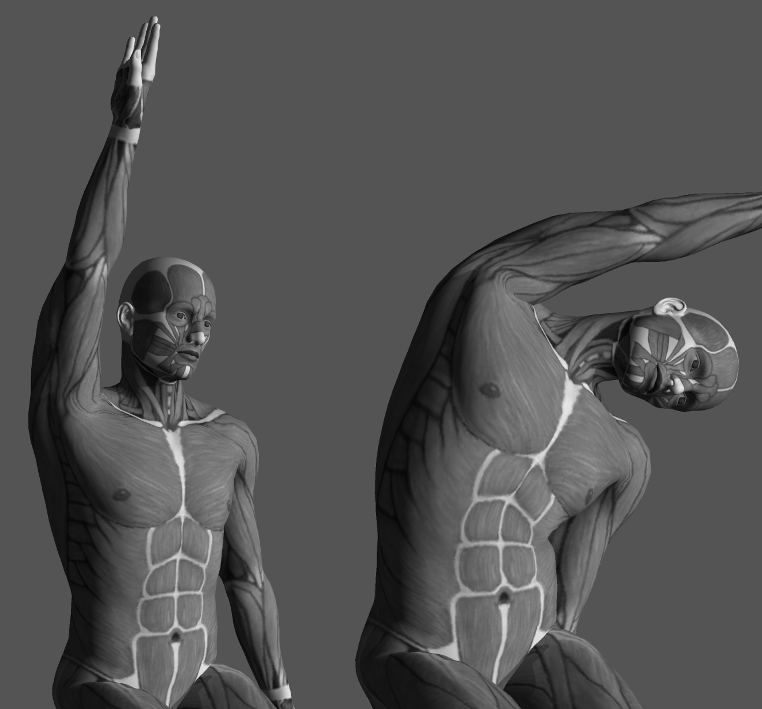 Keeping your abs pulled in, stretch one arm up and over your head, stretching the side of the body. You can tip a little to the side, but try not to tip too far (don't be a teapot.) Repeat on the other arm.
Spinal Twists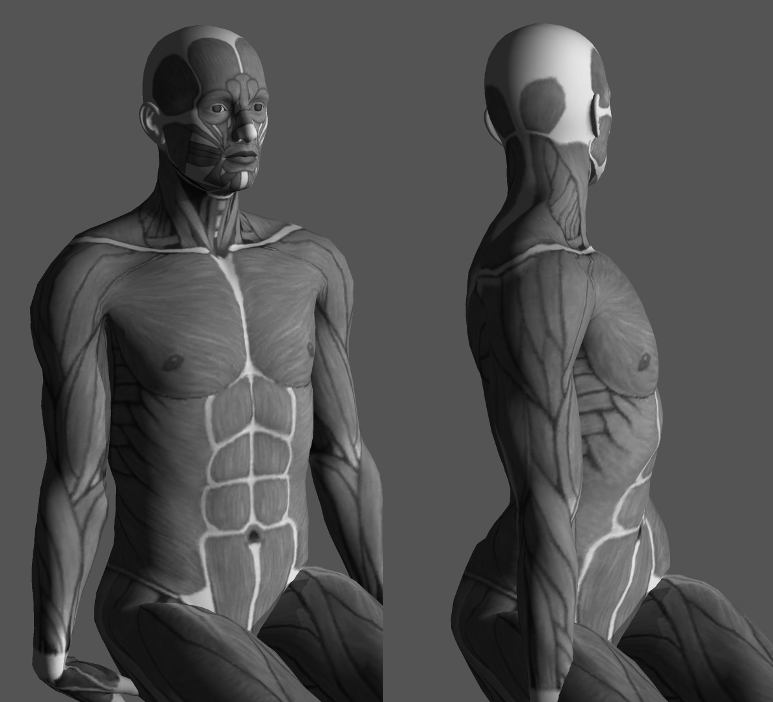 Grasp either your arm rests or the bottom of your chair, and gently twist your upper body, as if you were trying to look behind yourself. The majority of your motion is going to be at the rib cage, so don't try to force your lower back to twist too much (that could cause pain.) Gently return to center and spin to the other side.
Sitting Glute Stretch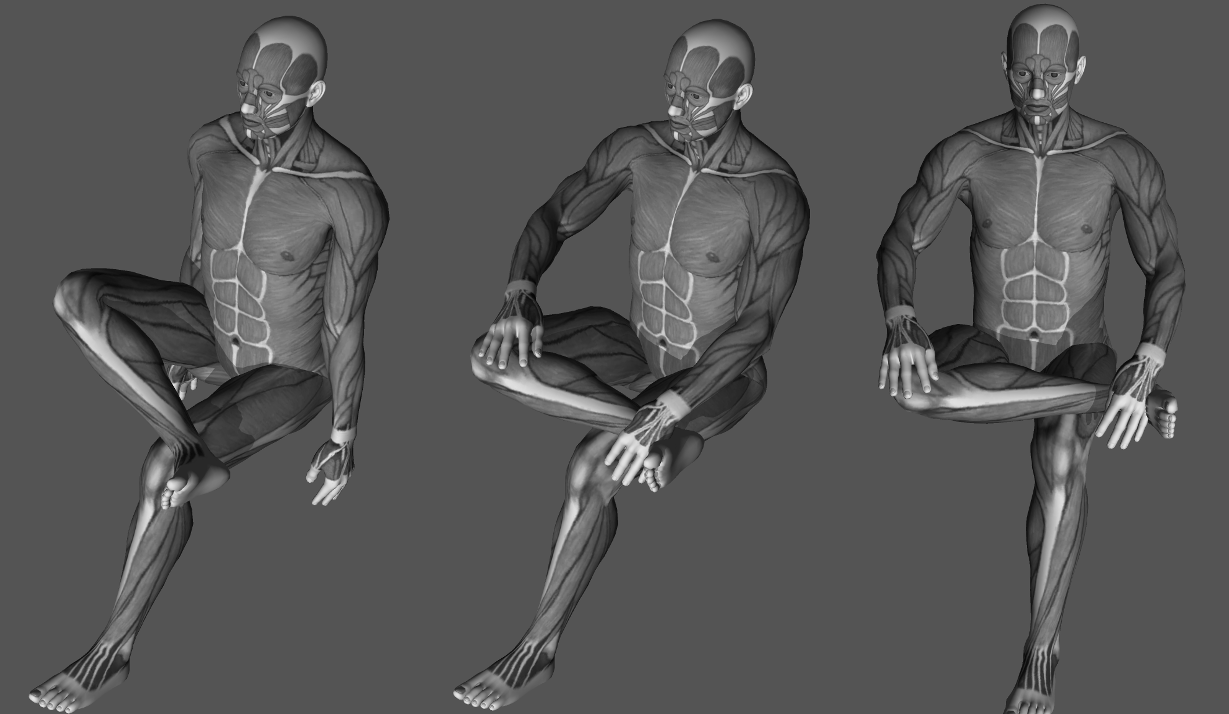 This one is a little easier if your chair doesn't have armrests, but if it does, you can just scoot toward the edge of your chair. Cross your legs, placing one ankle on the other knee. This should already stretch your glutes, but to increase the stretch, gently push your raised knee down, straightening your lower leg parallel to the floor. You can also lean forward a bit to get different parts of the hip involved. Repeat on the other leg.
Captain of Industry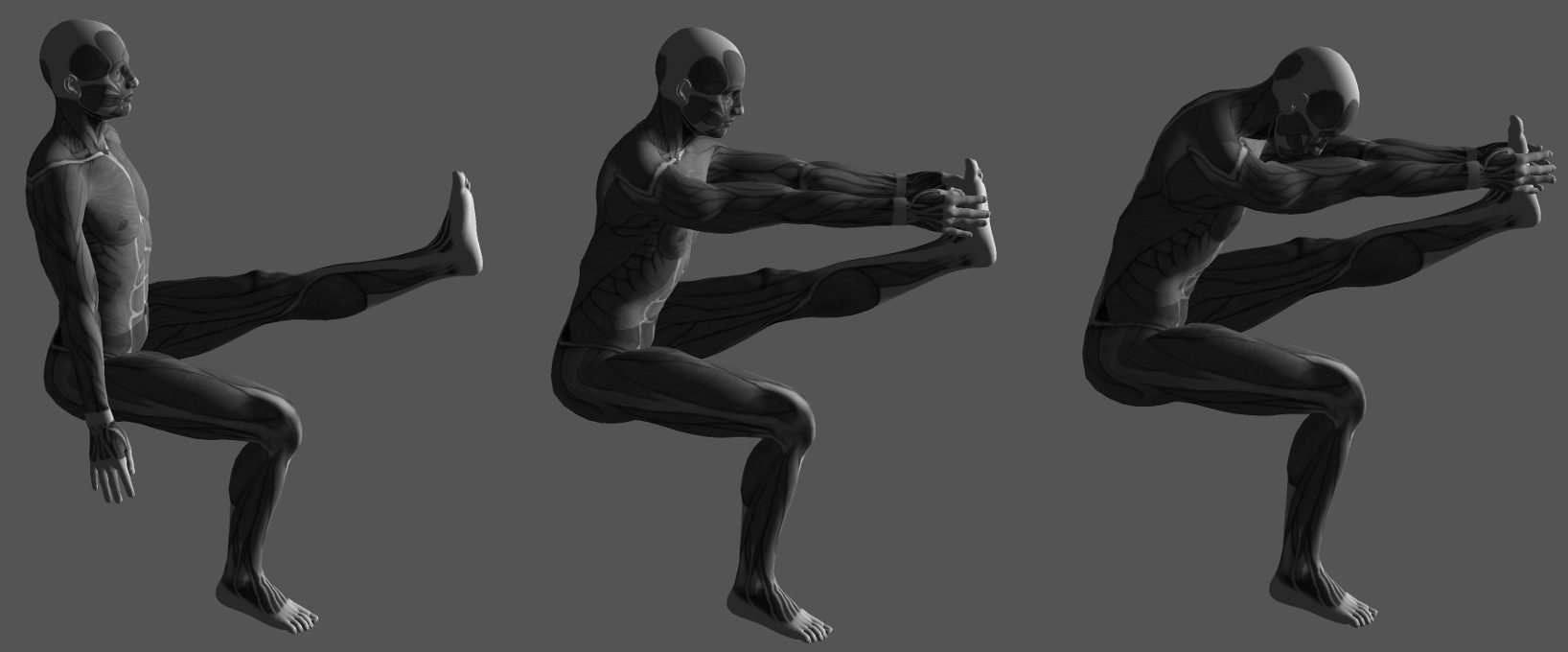 No one is watching at your home office, so put those feet up on your desk! Actually, just put up one leg first, and gently try to reach and touch your toes. It's ok if you can't - just intending to reach is enough of a stretch. If you can reach your toes, give them a little pull to stretch your calf as well. This works best if your desk isn't too high, as that can put a little too much pressure on your lower back. Repeat on both legs.
Shoulder and Neck Stretch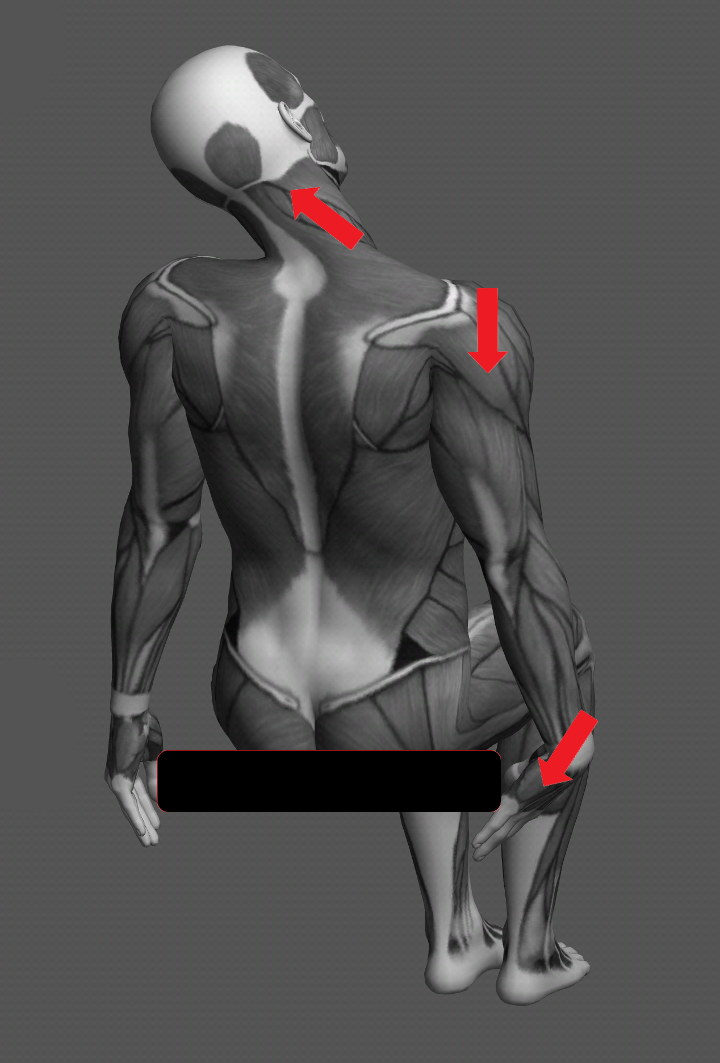 The traps and neck usually cause the biggest pain in a desk worker. This is the best way to stretch that area. Hold on to the edge of your chair with one hand, and lean your body a little in the opposite direction. Let your head fall to that opposite side, trying to make your opposite ear touch your opposite shoulder. Keep your arm stable, focusing on pulling your ear away from that arm. Repeat on that other side. It's almost always true that one side is worse that the other, so feel free to stretch one side more frequently, or hold one side for longer.
Healthy Recipe: Tomato Farro Sweet Potato Stew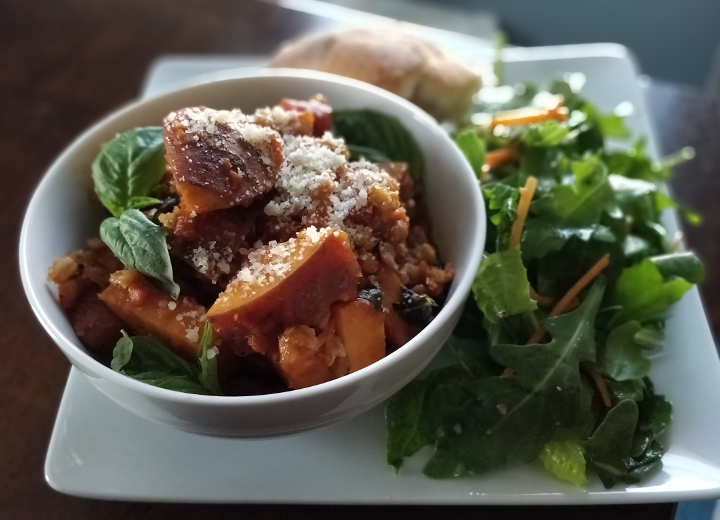 This is a healthy, hearty, filling stew that's quick enough to make on a weeknight. I like to use chicken stock, but if you use veggie and leave out the parmesean, it's vegan. It gets better as it sits, so leftovers are encouraged! Serve with a little salad and some crusty bread for a lovely winter meal.
Ingredients

2 carrots
2 stalks celery
1/2 onion
4 cloves garlic
3 Tablespoons olive oil
3 Tablespoons tomato paste
1 quart (about 3-4 cups) chicken stock (or veggie, if you prefer)
3/4 cup dried farro
1 14.5 oz can whole or chopped tomatoes
2-3 parmesean rinds (optional, but so nice to have!)
4 sweet potatoes, cubed about 2"
1 bunch fresh basil, chopped
Grated parmesean, for serving
Directions:
In a food processor, process the carrots, celery, onion and garlic until smooth. (You could also do this on a box grater if you don't have a processor.)
Heat a large stock pot on high. Add the olive oil and veggie mash. Add the tomato paste and stir well. Leave to cook for at least five minutes minutes on high - you want the tomato paste to caramelize and leave a little fond in the bottom of the pot. Add salt and pepper to taste. Add the stock and scrape the bits off the bottom with a wooden spoon.
Add the farro, canned tomato and parmesean rinds. Bring to a boil and cook for about 15 minutes, then add the sweet potatoes. The farro needs a little head start. Simmer until both the farro and sweet potatoes are tender, about 30 minutes total.
Remove the parmesean rinds. Add the fresh basil.
Add to bowls and top with more parmesean, if desired. Enjoy!
Too busy for a session during the week? Follow me on Twitter and I'll tweet which Saturdays I'm accepting office appointments. Can't deal with social media? My twitter feed is live on the bottom of the front page of my website; you can always see my latest updates there!


Monthly Special - February and March
A 30 Minute Session for only $40

We're all still busy, right? But prioritizing ourselves is important, even if it's only for half an hour. Mention this offer any time in February or March, and book a 30 minute session for only $40 - Save $10! It's a good way to make yourself feel great on your lunch hour!